Market Statistics
Up to the minute market statistics straight from the MLS.
OneKey® MLS: The Trusted Source for Real Estate Trends
When you need the most up-to-the-minute real estate market trends in New York, OneKey® MLS has you covered. From Montauk to Manhattan, north through the Hudson Valley and the Catskill Mountains, our accurate real estate market statistics can help you make the right decisions about purchasing a home. We keep our statistics as up-to-date as possible based on real sales data drawn straight from one of the state's largest multiple listing services. Our reports are published monthly and quarterly, showing closed and pending sales trends and other relevant facts. Below, you'll find our most recent reports and historical data for several prominent communities, including Bronx, Brooklyn, Dutchess, Nassau, Orange, Putnam, Queens, Rockland, Suffolk, Sullivan, Ulster, and Westchester County. Whether you're a member of our vast directory of real estate agents or an individual homebuyer, you may also reach out to us at any time with additional questions and concerns regarding real estate.
---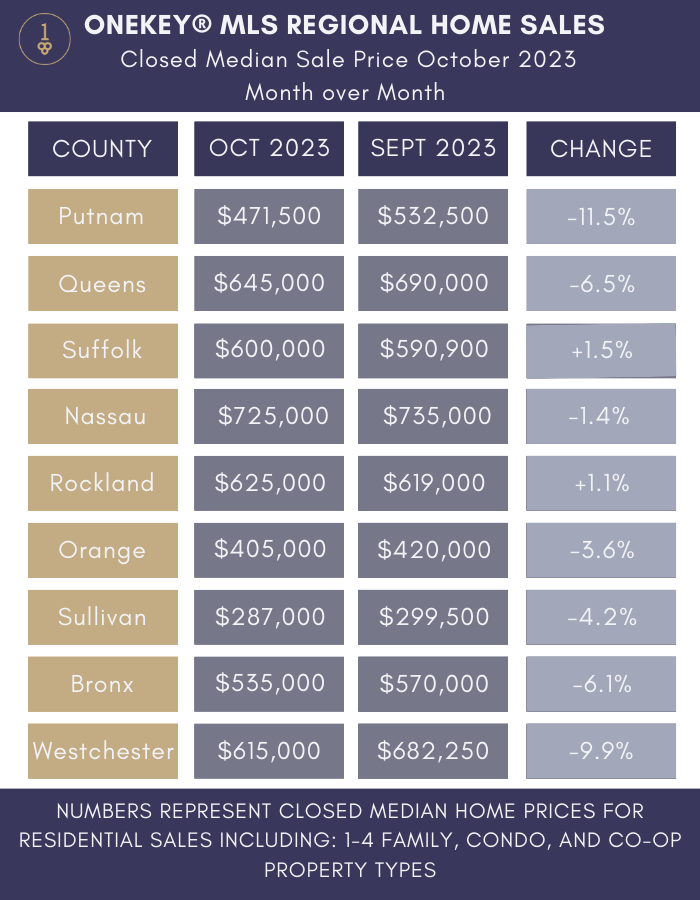 ---
County Statistics
Bronx County
Located just north of Manhattan and Queens, the Bronx has the proud distinction of being the only borough of NYC located primarily on the mainland. Bronx County is one of the most populated counties in the United States and is renowned for welcoming cultural diversity. Many people move to the Bronx because it's among the most affordable boroughs and has experienced much revitalization over the past several decades. If you're a newcomer to NYC, see if moving to the Bronx is the best bet for you.
---
Brooklyn County
Brooklyn offers a little bit of something for everyone with safe neighborhoods, an eclectic nightlife, diverse cultural museums, and five-star cuisine found in world-class restaurants. Benefits of living here include excellent public schools, beautiful community parks, and reasonable costs of living when compared to some of the other boroughs. If you're a newcomer to NYC, see if Brooklyn is right for you.
---
Dutchess County
Nestled in the heart of the Hudson Valley, Dutchess County offers a mixture of quaint rural villages and manageable suburban towns. Home values continue to rise, as more and more people have discovered the benefits of relocating here from Manhattan or the Bronx. If you're a newcomer to New York looking for historic charm, see if Dutchess County is the right place for you to spread your roots.
---
Nassau County
Nassau County is where nature meets art. From sleek apartment buildings to sprawling mid-century homes, the Nassau real estate market is diverse and plentiful. Residents enjoy proximity to New York City without all the hustle and bustle of the Big Apple in relaxed neighborhoods boasting family-run boutiques, wineries, gourmet restaurants, and spectacular outdoor recreation. See if it's right for you.
---
Orange County
Directly north of the border between New York and New Jersey, you'll find Orange County tucked between the Hudson and Delaware Rivers. This county is one of the most up-and-coming real estate trends due to its convenient rail service and easy commutes to the Big Apple. It's also home to several award-winning wineries in the scenic Hudson Valley. Find out if Orange County is a good fit for you.
---
Rockland County
Although it's the smallest of New York's mainland counties, Rockland County more than makes up for it with its exquisite hamlets located mere minutes from Manhattan. Industry is booming in this region with a robust job market and many single-family homes, apartment complexes, and condos to consider. Rockland County offers an attractive suburban retreat close to the big city. See if it's the right fit for you.
---
Putnam County
Located about an hour from New York City, Putnam County is one of the nation's most affluent counties. Made up of historic towns and villages, it has long been a favorite tourist destination. However, the region is also becoming more popular in terms of real estate, as more people value this quaint slice of country life within commuting distance of Manhattan. See if Putnam County is your best option.
---
Queens County
Located in the easternmost corner of New York City, Queens has earned the reputation of being the most diverse NYC borough. Equally diverse are the real estate offerings, ranging from high-rise apartment buildings to sprawling brownstones and single-family homes. Queens is home to both LaGuardia and John F. Kennedy International Airport and has a rich history. Find out if it's right for you.
---
Suffolk County
Suffolk County has garnered a reputation for being the rural part of Long Island, offering a diverse housing market with everything from rustic farmhouses to beach houses and modern apartments. Thanks to the scenic views and plethora of outdoor recreation, Suffolk County is a wonderful place to call your new home. If you're a newcomer to New York, see if it's the right place to put down roots.
---
Sullivan County
Home of the gorgeous Catskill Mountains, Sullivan County has long been a popular vacation destination. Woodstock took place here in the town of Bethel, and films like Dirty Dancing have captured the hearts of many to this region and its summer resorts for decades. If you're looking for laid-back vibes and the ability to reconnect with nature, this could be the perfect place for you to call your new home.
---
Ulster County
You'll find Ulster County in the middle of the Hudson Valley, not far from the Catskill Mountains and Shawangunk Ridge. Agriculture is king in this region, and locals enjoy fresh produce at local farmers' markets. There are also many historical sites and landmarks, museums, and outdoor activities to beckon you to this neck of New York. If you're a NY newcomer, find out more to see if it's a good fit for you.
---
Westchester County
Westchester County is the second most populated county on the New York mainland, offering a unique blend of suburban charm and cosmopolitan convenience. Commuting to NYC is easy thanks to the mass transit options. Whether you're looking for a home in a bustling city or a quaint village or hamlet, Westchester County has something to offer everyone looking to move to New York.
For More Information
If you are a member of the media or would like to schedule an interview with OneKey® MLS's real estate experts, please email or call Tricia Chirco at:
pr@onekeymls.com
631-670-0710